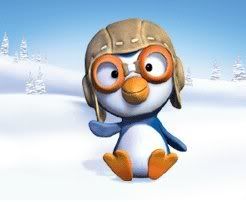 Korea is home to Pororo, an animated penguin whose only dream is to be able to fly.

In 2004, when the cartoon "Pororo the Little Penguin" hit television screens in France through TF1, the country's most popular network, the aspiring penguin was welcomed with a record-high 47 percent viewing rate.

The cartoon then successfully made its way to the U.K., Italy, South America, China and finally Japan last year. In that time the little penguin has pulled in some W80 billion (US$1=W942) in revenue. Now other companies have begun commercializing on the character, such as Club Med which has organized Pororo children's camps in holiday destinations like Bali, Phuket and Bintan.