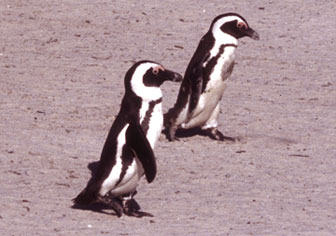 African penguin populations have fallen by 40 percent in the past few years according to an article published in the March 2, 2006 issue of Science. Biologists are puzzled by the decline.

Rob Crawford, a penguin expert with South Africa's Environmental Affairs Department, is quoted as saying the trend is "quite disturbing." He believes the drop may be due to scarcity of sardines and anchovies around penguin colonies, a development that may be the result of over fishing or larger environmental changes. The article notes that the South African government is evaluating various measures to protect penguins including "establishing no-fishing zones around several breeding islands."

The article says the African penguins numbered more than 1.5 million in 1910, but guano scraping and egg harvesting over the past century reduced their population by 90 percent. While the population rebounded in the early 1990s, two oil spills (1994 and 2000) took a further toll on the species. Today there may be fewer than 120,000 remaining in the wild, the bulk of which live in South Africa. Smaller numbers are found in Namibia.