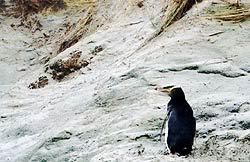 The Yellow-eyed penguin is a black and white bird with distinct yellow eye stripes. It is a very secretive bird that nests away from others amongst dense vegetation normally raising two chicks every year.

This unique penguin is found only along New Zealands south islands' eastern coastline, as far north as Banks Peninsula and as far south as Stewart Island and beyond to Campbell Island.

In the 1980s research on the Otago Peninsula showed that the penguin population had declined severely, and that the yellow-eyed penguin was now considered to be an endangered species. This was due to severe predation and loss of habitat.

In 1987 Dunedin conservationists formed the Yellow-eyed Penguin Trust with the aim of saving the penguin by restoring coastal forest and controlling predators. The penguin is the focus but the Trust's efforts also benefit other native species of plant and animal.

The Trust is based in Dunedin but manages land and penguin interests in the whole of mainland New Zealand.

The Trust's first twenty years have seen the penguin population increase, yet they are still a long way from being a self-sustaining population.