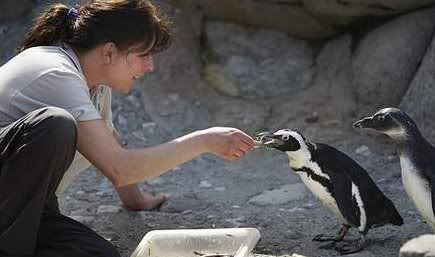 The Seneca Park Zoo, which has 26 penguins, is among the top breeders of African penguins in North America. Since the zoo became part of a "Species Survival Plan" for penguins in the 1990s, 46 chicks have hatched there, including seven this year.

And more are on the way soon. One egg is expected to hatch Sunday, and a second should hatch about four days later.

A hundred years ago, more than a million African penguins roamed the Earth. That number now is about 150,000. Their decline has been brought on by factors such as overfishing, which cuts into their diet; hunting of their eggs, which are high in protein; and harvest of their guano — an exceptional fertilizer — which disturbs the penguins' breeding cycles. Oil spills also are a major threat.


Penguin particulars
Source:
Democrat and Chronicle