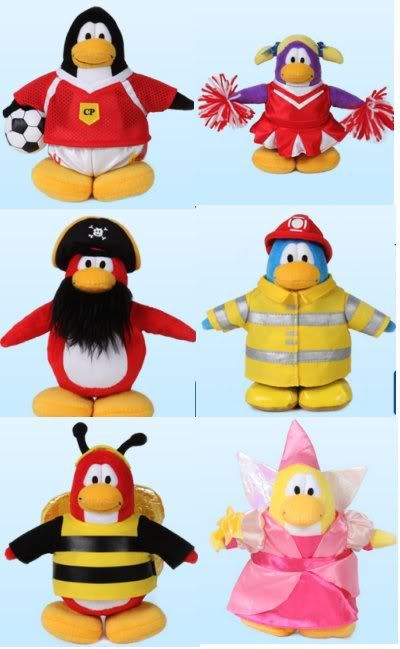 In late October, Disney released a series of stuffed animals based on digital characters from the company's popular online virtual world Club Penguin.

The plush penguins hit the market at $9.99. "We wanted to keep the price down," says Lane Merrifield, executive vice-president of Disney's Interactive Media Group and the co-founder and general manager of Club Penguin. "We decided this before the downturn, actually. The low prices will help [consumers]. But we also thought that making the toys affordable will allow the brand to be more accessible to more people."

Well, guess what? The Club Penguin Penguins seem to be the "must have" toy for this Holiday. The plush penguins dressed as a cheerleader, fireman, space alien, rock star, etc. have flown off the shelves at Toys R Us and the Disney Stores. A few have made their way to eBay at $20.00 or higher.

They are adorable!

I can understand every kid wanting one - or a whole collection of all THIRTEEN of these little cuties. I'm just happy I'm not searching all the toy stores looking for them!

Take a look at the whole collection at the Club Penguin Penguin Shop.