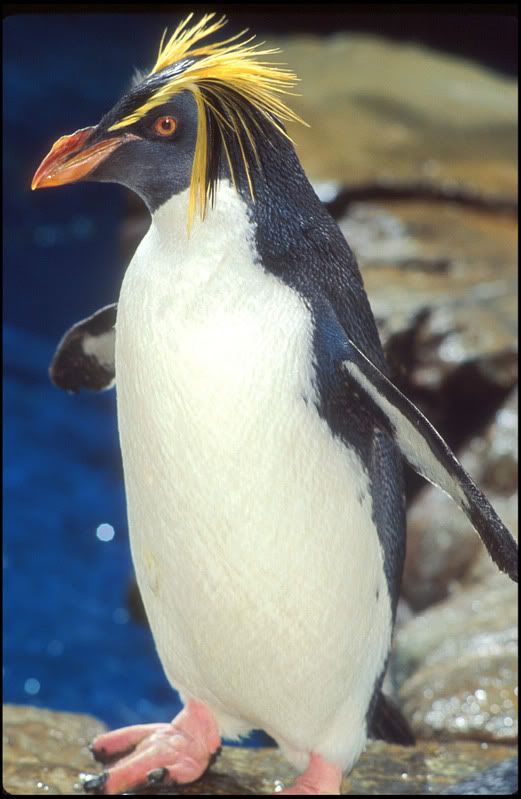 The Detroit Zoo's Penguinarium, which opened in 1968, was the first facility in North America designed specifically for penguins.

The three species living at the Detroit Zoo include king, macaroni and rockhopper, all of which are sub-Antarctic species. These species require colder temperatures and, as a result, the Detroit Zoo maintains extensive life-support equipment for this facility.

The Detroit Zoo has a long history with penguins and has successfully raised many penguins of numerous species throughout the years. Recent focus has been on breeding macaroni penguins, a penguin species held at only a few zoos in North America. Thanks to the hard work of its animal care staff, the Detroit Zoo raised five macaroni chicks in 2007!

"They're very social," said Tom Schneider, curator of birds at the region's only zoo. "They form bonds. Then sometimes they have divorces, and they take up with someone else."

Schneider, of St. Clair Shores, oversees the penguins and every other bird exhibit at the zoo, a job he's held for 22 years. He learned early on that penguins have personalities, with some eager to form friendships and engage the public and others that keep their own counsel.

Rockhopper and macaroni penguins, especially, are friendly little guys who like to check out their visitors, Schneider said.

Penguins are so popular the zoo is raising funds by allowing groups of four animal lovers at a time to come into the Penguinarium after hours for "macaroni mingler" events. Groups pay $500 to spend time up close and personal with the soft, sea faring creatures.

Penguins have thrived in the Penguinarium since it opened; it now holds some of the oldest living penguins. In fact, King Penguin One, as he is known by zoo staff, is the oldest king penguin in the country.